adventure photography gear list
So I get it all the time, "Dan, what's in your bag?", "What camera do you use?", "How can I be just like you?". Ok, I made up that last one. When I'm on my adventures I have to pack smart. I need products that are tough and versatile, I need to be able to quickly change gears to snap some pics then quickly setup to film video.
adventure photography camera
It's small but packs a big punch! 4k video, stills, time-lapses, I need a camera that can do everything and this one delivers. The 4k 10 bit signal offers great color and amazing clarity. If you're used to shooting stills with a full frame sensor this micro 4/3rds sensor may disappoint you with the lack of flexibility in editing but overall there is no better all in one camera. The internal stabilization is another huge aspect for me as I'm usually in run and gun mode. Filming handheld the stabilization keeps my footage from looking too shaky. The camera is also weather sealed, keeping out all the part of Alaska I don't want inside my camera.
This tiny package carries a big punch! Able to film in 4k with great clarity. The portability makes it a great fit for me.
Bang for the buck this one ranks pretty high! Gives me a great way to carry my camera and has additional ports to screw in more cold shoe mounts to add lights and microphones. I also really lean on the handle for filming handheld moves, hand on the handle and the other under the camera to offer some great stability.
It goes up and down and holds my camera steady… It's pretty light and has ice cleats. To be honest I could use a carbon fiber one.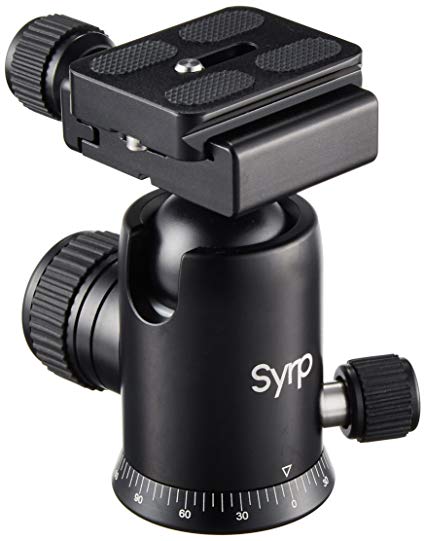 Smooth, like butta. Does well in the cold, has good rubber dials, rubber pads on the plate and the numbers at the bottom are a big help too.
adventure photography lenses
Just as important as the camera the lens is the first thing your image goes through. When choosing lenses there are two main categories Prime and Zoom. Prime lenses are typically faster (wider aperture) but are fixed in length. Zoom lenses usually aren't as fast but are more versatile. For the most part I use zoom lenses because I just don't have the time to switch lenses and the conditions I shoot in don't make it realistic to expose my camera. Using the speed booster gives me an extra stop of light which helps offset the downside of zoom lenses. I love Canon lenses because of their stabilization, crisp detail and rugged build. I've put them through some extreme conditions and they just keep on performing.
If I have to pack one lens, this is the one I grab. It's a bit slower of a lens at f/4 but the zoom range makes it worth it. Also the image stabilization is great (most Canon lenses are) which helps when I'm going handheld at 105mm!
The emotion is in whites of their eyes and this camera can get you there. If I'm filming people this lens can reach out and really connect my audience to the people. A much more difficult lens to use when running video as much of the time you can't fit everything in the frame. You have to really be selective with what you want to focus on. You'll miss more shots due to the small FOV but the shots you do get are always gold!
Whether on the back of a jet ski trying to film my pilot or inside a tight ice cave this lens that the field of view (FOV) that I need. It's a fast lens at 2.8 and with the speed booster drops it down to 2.0. Giving me a lot of light for shooting at night and lots of delicious depth in my images.
Goes between my camera and lenses. It increases maximum aperture, increases MTF and makes lenses wider. It also acts as an adapter allowing me to use Canon lenses. This one is a big component to delivering that cinematic look as it helps give me more depth of field.
On most any adventure I go one this is the heart and soul of the operation. Holds everything I need to get out there and capture the epicness. Even has a pouch for some extra multis!
If you knew the places I put my camera this one is a no brainer. These filters are inexpensive and help protect the lens. Protect your investment, pick up a few of these and keep your lens safe!
Picks up great sound and the suspension kit helps from hearing all the extra stuff I don't want.